Post-Game Player Award
Like all teams, the Penguins award a token to the player chosen as MVP by the other players after a win.
2019-2020
An authentic fireman's helmet with the number 4 (indicating it was from Firehouse 4) [1]
2018-2019
A silver warrior helmet, similar to the one used in 2015-2016 [2]
2017-2018
A Pittsburgh Steelers football helmet
2016-2017
A PPG Paints paint can (only used for first part of season)[3]
A Pittsburgh Pirates baseball batting helmet
2015-2016
A warrior helmet (provided by Pascal Dupuis); axes were used on the stickers to follow theme[3]
2014-2015
No award used during regular season. An old-fashioned 'punch-card' time clock was used for the playoffs[3]
2013-2014
A rock from the Penguins' pre-season trip to West Point (there are no stickers on this award)
2012-2013
2011-2012
construction helmet painted to look like a miner's helmet; Penguins puck attached as the 'light'[3]
2010-2011
a working-man's lunch box (to continue the 'blue-collar hockey' theme)[3]
2009-2010
A shovel. It represents a longtime arena worker; when he died, the players made the shovel their coveted prize: The Kevin "Duffy" Shovel Award.[4]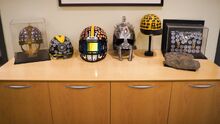 circa 2008
Team Stats
Penalties
Penguins have played 3 games without either team taking a penalty. On 22 March 1969 in St. Louis, on 11 April 2015 in Buffalo, and 28 December 2016 in Pittsburgh.
Trivia
Arenas
The Pens played in the Civic Arena from the time of their NHL debut in 1967 until the end of the 2009-2010 season.
The Civic Arena was also known as the Igloo because of its dome-shaped form.
Civic Arena was renamed Mellon Arena in December 1999.
Mellon Arena was demolished between September 2011 - March 2012.
The Penguins current home arena is the PPG Paints Arena.
It was formerly known as Consol Energy Center.
The Arena was completed in August 2010, and houses 18,087 seats in its hockey capacity in honour of Sidney Crosby, whose jersey number is #87.
In the 2018 off-season, the Penguins spent hundreds of thousands dollars to replace the boards around the rink.
The Penguins have yet to win a Stanley Cup on home ice.
General
New Third Jerseys (2018-2019)-A blend of team heritage from the 1980s and the 2017 Stadium Series jerseys
Regarding uniforms, three players (Sidney Crosby, Kris Letang, and Jake Guentzel) require 'custom alterations' to the standard jersey worn by all players. "In addition to numbering and lettering the jerseys, Pro Knitwear staffers must also accommodate all special requests players have passed along to Heinze."
The Pittsburgh Penguins were originally named the Pittsburgh Pirates and played in the NHL from 1925-1926 to 1929-1930 before moving to Philadelphia and playing one season as the Philadelphia Quakers. Their color palette was black, gold, white, and orange.[5]
The 1967 Penguins' original color scheme was powder blue, which they abandoned in 1971 for the black and gold of their predecessors and to match the Steelers (Football) and the Pirates (Baseball).[6]
As of 2013, Western Pennsylvania was responsible for 15% of the growth of youth hockey in America in the last 5 years. This was, in parts, a direct result of Sidney Crosby's Little Penguins program.[7]
Sidney Crosby and Connor McDavid faced off for the first time on 8 November 2016, Election Day. Mario Lemiuex and Wayne Gretzky faced off for the first time on Election Day in 1984.[8]
Team Bonding
The 2015-2016 roster started a fantasy football league that continued in 2016-2017 and which the players take extremely seriously.
Marc-André Fleury
Once dressed as Catwoman for Halloween.[9]
Favorite Candy
Updated for 2018:[10]
Matt Cullen - Snickers
Chad Ruhwedel - SweeTarts or Spree
Bryan Rust - Twix
Daniel Sprong - Mars bars
Matt Murray - Crunchie (only available in Canada)
Jack Johnson - Reese's peanut butter cups
Jake Guentzel - Snickers
Phil Kessel - Sour Patch Kids
Carl Hagelin - Reese's Pieces
Olli Maatta - Licorice
Kris Letang - Canadian Smarties (similar to M & Ms in the US)
Sidney Crosby - "anything chocolate"
Prior to 2018
Dan Bylsma - Reese's peanut butter cup. Also Kit Kats.
Jeff Zatkoff - Milky Way, or any kind of chocolate.
Jayson Megna - Reese's peanut butter cup.
Olli Maatta - Licorice, and Swedish berries. (Is not a chocolate kind of guy).[11]
Kris Letang - Chocolate (Endorsed and designed his own chocolate, eats two peanut butter cup snacks before games).[12]
Penguins In-Arena Game Playlist
Miscellaneous
During the 2016 Stanley Cup playoffs, actor Morgan Freeman indicated that he had put money down on the Penguins winning the Cup.[16]
References
Community content is available under
CC-BY-SA
unless otherwise noted.